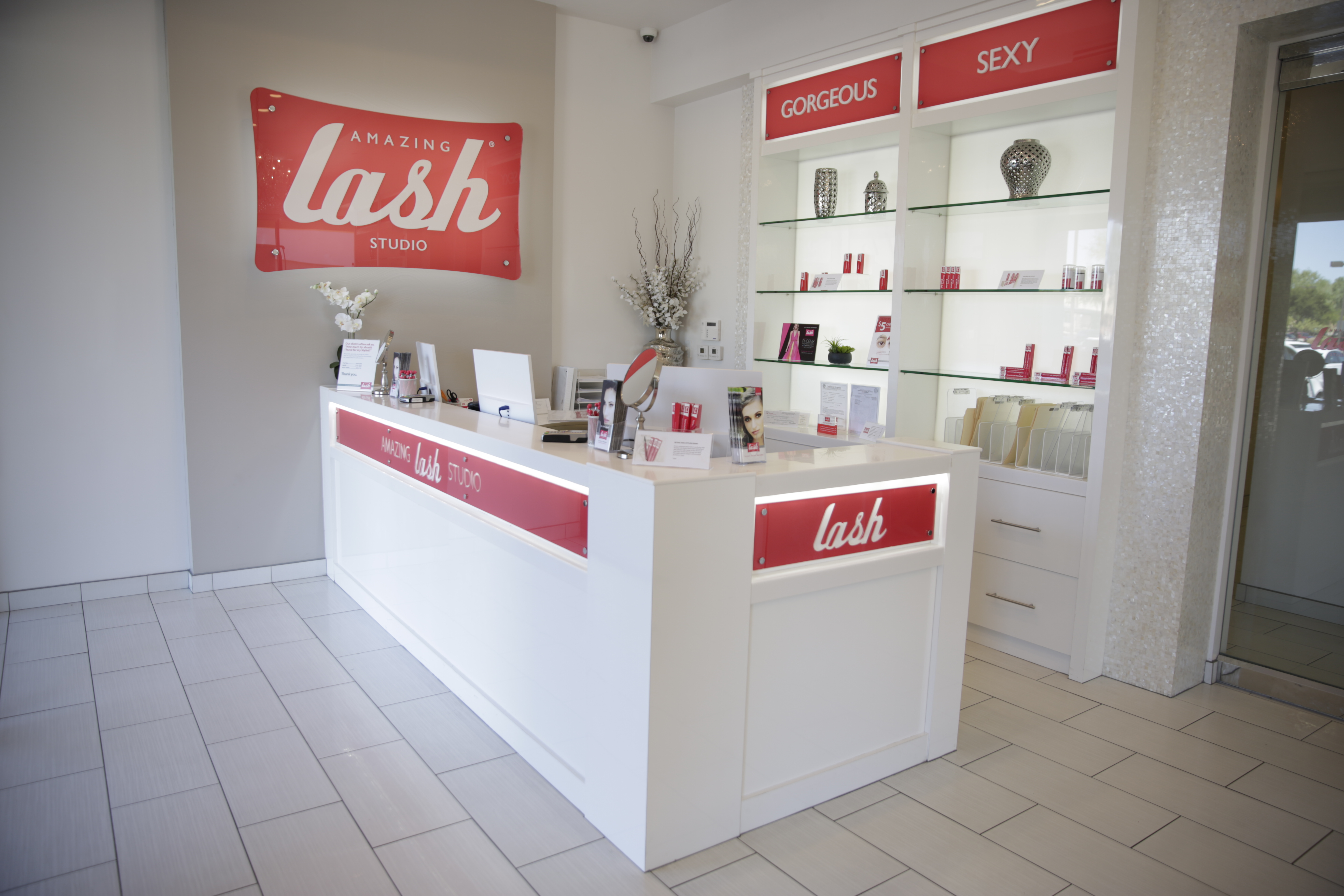 How to Own an Amazing Lash Studio Location
Thursday, September 22, 2022
If you're a beauty enthusiast who loves building confidence in others, then you're perfectly poised to own an Amazing Lash Studio® franchise. Join the eyelash extension industry leader! Amazing Lash Studio is one of the largest and fastest growing eyelash extension franchises in the nation. Eyelashes are doing a lot more than just "having a moment" right now -- they're the focal point of the face and set the stage for a woman's entire makeup routine. They're also at the top of beauty industry success stories; eyelash extension services bring in billions of dollars per year to businesses worldwide. 
Be part of a recognized brand that empowers women and participate in the mission to create lasting beauty and confidence through passion, dedication, and excellence so guests will look and feel amazing.
Why an Amazing Lash Studio Franchise?
Like the thrill of stepping out of an Amazing Lash Studio location the first time with your new Lashes, leaving the corporate world or a small business enterprise for a franchise opportunity is a transformative and beautiful experience.
A beauty services business is about creating a space with a luxurious, spa-like atmosphere, an oasis for guests to treat themselves.With an Amazing Lash Studio franchise, you get a layer of support you don't find when you're an entrepreneur going at it alone. As one of the category leaders within the lash industry, there's built-in demand before you even open your doors. 
For instance, you're not on your own when figuring out how to market an Amazing Lash Studio location within your community. You receive access to corporate resources, proper training, and advice. In addition to the flexibility of becoming a franchisee, opening an Amazing Lash Studio franchise has further benefits because of its membership business model, including:
A playbook with tested strategies

Solid guest base

Predictable facility size

Recurring revenue

Marketing benefit of repeat customers

Successful team support
What Does a Franchise Owner Do?
From the time guests fill out the form to the moment they're responding to compliments for their Lash extensions, you're making your franchise a part of the community and building your own legacy. The success of the Amazing Lash Studio brand makes your job easier, but it's up to you to provide the quality of service that makes loyal customers out of first-time guests.
The look and feel of the studio nails it for first impressions, but most importantly, you need to recruit highly trained stylists who offer the specialized services the brand is known for. By communicating the opportunity for a Lash Stylist to not just hold a job but build a career, you attract talented stylists who perform well with guests and may even follow the path to management.
There's power in ownership, and you build your skill set as you gain business experience and continue training the quality individuals you hire. Stylists who interface with guests need to learn how to help women feel confident and beautiful so they return for services; that's how you can help keep your location competitive and in-demand. Eyelash extensions have to be maintained, which is one of the recurring features that position Amazing Lash Studio owners to grow in membership.
Like most business owners, you're responsible for records such as profit and loss statements, but other features make a beauty services franchise successful. When your Amazing Lash Studio  location has mastered the specialized technique of eyelash application and maintained the highest level of guest relations, you have a winning combination.
How to Purchase an Amazing Lash Studio Location
Joining the hundreds of Amazing Lash Studio franchisees across the country is very straightforward. With a "get open and grow" model for the business, you can start with one studio or schedule launch dates for multiple locations. By reaching out to the Amazing Lash Studio brand with an interest in becoming an owner, you receive a Franchise Disclosure Document to learn more about the brand. Steps for becoming a franchisee include the following. 
Support - You learn how the development team works with you to design an effective business structure and provide the resources you need for marketing, training, and operations.
Real estate - The Amazing Lash Studio real estate team members help you choose a studio site using data regarding demographics and psychographics, tools that position studio franchisees for success.
Confirmation Day - If you're a proper fit for the brand, you go to the Support Center in Denver, Colo., for meetings with the Executive Team. There, you'll develop a deeper understanding of support roles and gain more information about the process.
Final approval and agreement signing - When you're approved by the Executive Team, you'll sign paperwork and begin with a kickoff call to begin site selection.
To take your first step in this exciting industry, get started now and fill out the form to learn more about Amazing Lash Studio franchise opportunities.
How Much Does an Amazing Lash Studio Franchise Cost?
Estimated startup costs for a single-unit Amazing Lash Studio begins with the initial franchise fee of $50,000. With an estimated total investment rage of $304,071 to $635,972, you need access to capital and the financial expertise to manage the business.
What Do You Need to Buy an Amazing Lash Studio Location?
You don't need to be an accountant, an artist, or a beauty industry authority to become an owner. When you join the eyelash extension leader, you have access to the expertise of the Amazing Lash Studio support team. The Amazing Lash Studio brand is supporting hundreds of franchisees by offering ongoing guidance, leadership, and support. Experienced support team members help with studio design and equipment selection, and furnishes a comprehensive operations manual for continued training. The large-scale Amazing Lash Studio support system provides you with everything from advertising assistance to presence on multiple marketing platforms.
Aside from reaching out to your community connections to market your studio, the Amazing Lash Studio brand nearly sells itself. One of the Inc. 500 in its inaugural year, and ranking No. 5 on Entrepreneur magazine's Top Franchises list, the Amazing Lash Studio brand is the largest and fastest-growing eyelash extension franchise in the nation. 
Internet searches for "Amazing Lash" outrank "Lash Extensions" in many markets. The Amazing Lash Studio brand is further boosted by WellBiz Brands Inc., which acquired the eyelash extension franchise in 2018. Thanks to WellBiz Brands Inc., which also oversees the Fitness Together®, Elements Massage®, Drybar®,and Radiant Waxing™ brands, Amazing Lash Studio franchisees receive industry-leading support in different aspects of the businesses.
With a wide range of services and products for sale, multiple revenue streams position Amazing Lash Studio franchisees for success, but the passion and motivation of franchise owners make it so. When you believe in the brand and connect with guests, you have an opportunity to help women reach their potential and be the successes they were meant to be.
A commitment to customer service is a demand that industry leaders provide. As a guest-centered service franchise, you need to build a strong team with individuals who know how to offer a luxury experience in a comfortable setting.
If you see the value of making semi-permanent eyelash extensions a mainstream market leader in beauty trends, it makes sense to find out how to own an Amazing Lash Studio location. When a brand is supporting franchisees, the transformation from small business owner to becoming part of a wider circle of support is seamless and produces results you can see through a beautiful set of Lashes. 
©2022 Amazing Lash Franchise, LLC ("ALF"). Each Amazing Lash Studio® location is independently owned and operated. Franchise owners are solely responsible for all employment and personnel decisions and matters regarding their independently owned and operated studios, including hiring, direction, training, supervision, discipline, discharge, compensation, and termination of employment. ALF is not involved in and is not responsible for employment and personnel matters and decisions made by any franchise owner. All individuals hired by franchise owners' studios are their employees, not those of ALF. Benefits vary by independently owned and operated studios. Amazing Lash Studio® and Amazing Lash Studio + design are registered trademarks owned by ALF.
Category: Lifestyle
Tags: fill out form, lash studio has mastered, opening an amazing lash, amazing lash studio franchise, multiple revenue streams, poise maazing lash studio, demand industry, studio brand is supporting, amazing lash studio brand, studio franchisees for success, competitive and in demand, open and grow model, market amazing lash studio, amazing lash studio stands