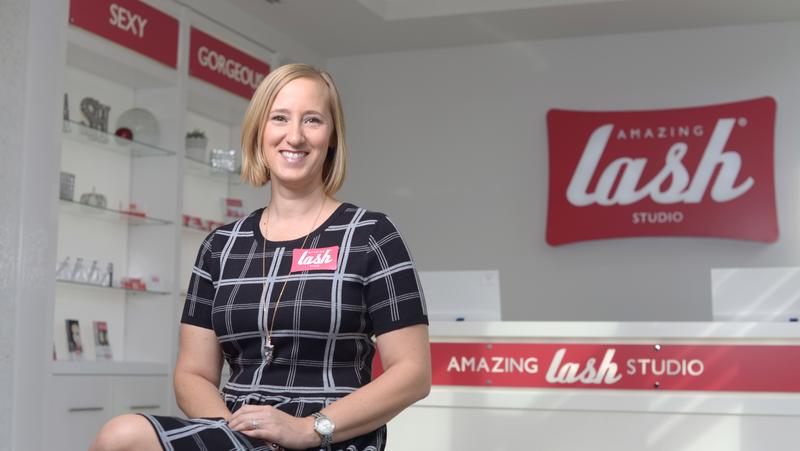 How to Be a Lash Stylist
Thursday, September 22, 2022
Learn and Earn: How to Be a Lash Stylist
You're a beauty aficionado, a solopreneur, and you know your way around a makeup counter. If any of these pertain to you, all you need is a steady hand to carve out an incredible career as a Lash Stylist at an Amazing Lash Studio® location.
What Is a Lash Stylist
?
Eyelash technicians or, as the brand calls them, Lash Stylists, are skilled professionals in eyelash extension services; they know how to elevate the visual appearance of guests by creating bigger, bolder, thicker lashes based on the guest's face and eye shape, lifestyle, and preference. A Lash Stylist is a skilled professional who super-serves guests at an Amazing Lash Studio location. 
Applying lash extensions takes patience and extreme focus for maximum results, and requires a combination of technical skill and artistry. 
Some eyelash professionals work in salons with other beauty experts such as nail techs and hairstylists. Depending on the training program you choose, you may learn more than simply how to apply eyelash extensions -- some certified stylists also do lash and brow tinting, threading, and perming.
How to Apply Lash Extensions
The purpose of applying eyelash extensions is to draw attention to the eyes and enhance a woman's beauty, but the technique can vary. A typical process includes:
Choosing the lash style

Washing the natural lashes

Applying primer to lashes

Placing under-eye gels or other patches

Dipping one lash at a time into adhesive

Isolating and applying each extension

Separating lashes before drying

Drying lashes for maximum adhesion
What is a Master Stylist?
Some of the most popular people at Amazing Lash Studio locations are Master Stylists. They are the most requested, most experienced, and most amazing professionals. Not only do Master Stylists have extensive training and excellent skills in customer service, they're able to connect with guests and create dramatic looks that match the guest's overall or desired style.
Accomplished to the nth degree, they take your experience to a whole new level. Like all Stylists, a  Master Stylist has exceptional skill and an aptitude for the art, but they typically have more experience and require less time to apply the extensions. They have natural dexterity and amazing people skills, but also -- due to the time they've been honing their craft -- they demonstrate near perfect precision and customization.
What's It Like to Be a Lash Stylist at an Amazing Lash Studio Location?
It's fun! While most Lash Stylists describe the joy of providing life-changing cosmetic features to happy clientele at an Amazing Lash Studio location, part of the appeal is the ability to work in a vibrant, engaging, supportive environment and bring beauty and confidence to guests. It's a great career if you enjoy bonding with other individuals who are doing what they love and with guests who appreciate a whole new level of elegance with the beauty they want inside and out.
There are personal benefits to becoming a Lash Stylist, such as a flexible schedule, but many Stylists enjoy the built-in ability to also share the love with those around them. As an artist who's passionate and empowered, you'll exude satisfaction and delight in seeing guests glow with confidence as you transform their look, which can sometimes be life-changing -- or lifestyle-changing. 
Amazing Lash Studio Stylists claim myriad benefits to a career as a Lash Stylist, including:
Women helping women feel great about themselves

Job satisfaction

Making women glow with confidence

A supportive and safe environment 

Being part of something bigger than yourself

Feeling empowered

You can make it a career
How to Become a Lash Stylist at an Amazing Lash Studio Location
Amazing Lash Studio locations are one of the only brands that hire its Lash artists without any prior experience. As a job candidate, you receive five to 10 days of training with an experienced instructor who provides the guidance, support, and supervision you need to develop an expertise in Lash application to enjoy this rewarding career.  
Becoming a Lash Stylist requires training whether you already have a background in esthetic services or have other experience in the beauty industry. When you love makeup products and notice the huge role eyelashes are playing in the world of cosmetics, becoming a Lash Stylist is a natural next step.
How to Become a Certified Lash Stylist 
Having an eyelash certification adds to your credibility with potential guests at the studio you work in. It means you understand safety and sanitation associated with eyelash extension services and guarantees you know how to properly apply and remove extensions. It means you learned the facts, had instruction regarding techniques, and developed a skill set through the hands-on segment of an eyelash extension training program.
Check your state's requirements - Find out if you need to be a licensed cosmetologist and the number of hours of lash training required to get a lash technician certification. Regulations are determined by your state's Board of Cosmetology.
Find a lash training program - Most lash technicians attend beauty school to complete an esthetician program either concurrently or before entering a lash training program. By choosing an accredited school, you gain a wide range of skills and receive supervision.
Seek out models - Like every skill from music to athletics, practice is a part of becoming an expert. Ask family and friends to give you the chance to put your lash application skills into practice.
Complete training hours - The number of certification training hours required for eyelash extensions also varies state to state. Ask instructors for feedback as you adjust your technique and be sure to keep a record of your hours.
Take the examination - Some states require both a written and practical exam for a cosmetology license; for eyelash extension certification, you may need to display a quality of work. Check with the Board of Cosmetology to apply for the exam.
How Much Do Lash Stylists Earn?
Like other jobs in the field of cosmetic services, your earnings as a Lash Stylist depend on various factors, including your skill level, whether you work full-time or part-time, and if you work for a studio, salon, or you're self-employed.
A Lash Stylist at an Amazing Lash Studio location has the potential to earn $20,000 to $80,000 per year. You may also receive free eyelash services, including volume upgrades and discounts on retail products. You have the benefit of ongoing access to free training and education. There are plenty of amazing perks.
If you choose a career path that enables you to grow as a professional, you can become a Master Stylist. The estimated median pay for a Master Stylist at an Amazing Lash Studio location is $34 per hour, says hiring website GlassDoor.com in August 2022. The estimated base pay is $23 per hour and estimated additional pay is $12 per hour, which can include bonuses, commission, tips, and profit sharing.
Finding a place where your passion and purpose come together is a dependable way to choose a life path. When you have an expertise in esthetic services and you embrace the mission to build confidence in others, becoming a Lash Stylist can be a satisfying and sustainable career move, and an Amazing Lash Studio location is the perfect venue for your artistry. 
Find a job at Amazing Lash Studio now! CLICK HERE to apply.
Category: Lifestyle
Tags: eyelash technician, certification training, customer service, applying lash extensions, beauty industry, full-time, steady hand, rewarding career, extensive training, requires training, eyelash extensions, lash artist, eyelash extension training, states require, eyelash extension certification, sensitive area, esthetician license, certified lash technician, certifcation ourse