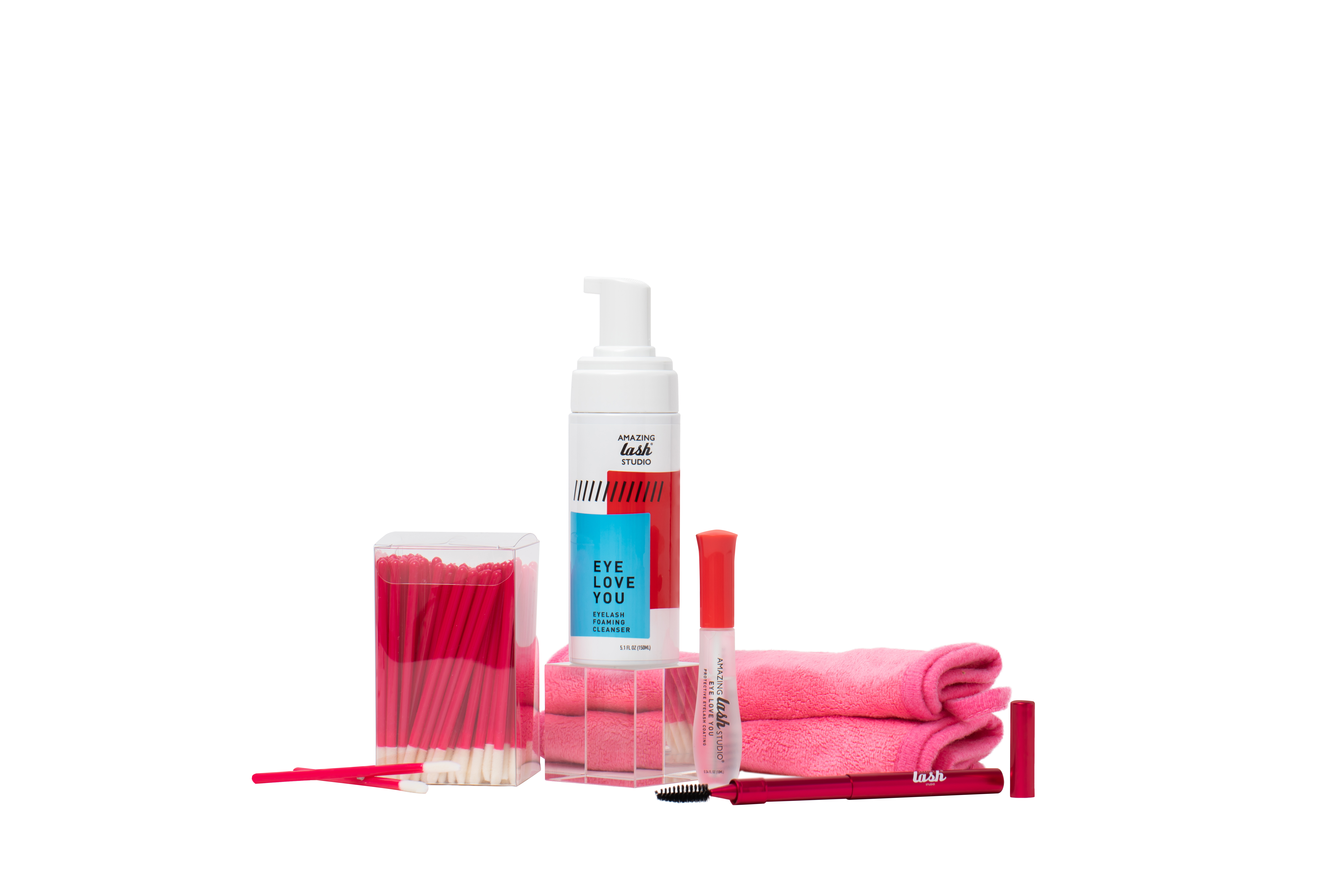 How to Care for Eyelash Extensions: The Do's and Don'ts
Eyelash extensions will require some level of maintenance, even if it's minor, for you to get the full benefit of your Amazing Lash Studio® experience. But a few minutes of maintenance on your own time can save you hours when the clock isn't in your favor -- like trying to beat the morning traffic.
How to Care for Eyelash Extensions
Eyelash extensions are an incredible resource that allows you to maintain an effortless sense of style on a daily basis. By experiencing the eyelash extension service at an Amazing Lash Studio location, you'll walk out with stylish yet natural lashes. Although the Lash Stylists at an Amazing Lash Studio location will take care of the initial application, there are ways you can maintain the quality of your extensions through a few simple, yet highly effective, steps.
The benefits of taking care of your lash extensions include:
Extending the length of your application:

When you proactively care for your lashes in the hours after application, they will simply look better, for longer, requiring less maintenance from you in the long run.

Financial savings

: The better you care for your lash extensions, the longer they will last, which means you'll need touch-ups and replacements less frequently. It also frees you up to buy that extra Retractable Lash Styling Wand for your workout bag in case your gym crush shows up in spin class.

Supportive of overall lash health

: Learning how to care for your lash extensions will also equip you with helpful knowledge of how to care for your natural lashes and overall eye health.
So, what do you need to know about caring for your lashes? It's important to start by first looking at the initial hours after application. 
The First 24 Hours After Application: The Do's and Don'ts 
The first 48 hours after your lash service are important, but the first 24 are critical. Pay attention to these important do's and don'ts. 
Do this.
Keep your lashes as dry as possible. Avoid swimming, humidity, or sweating as much as possible. Avoid washing your hair during this time to minimize the chance of getting water near your new lashes.

Use oil-blotting papers and oil-fighting cleansers and moisturizers, especially if you are prone to oily skin. You can do this as frequently as needed -- just do your best to avoid directly interacting with your new lashes.

Sleep on your back, if possible, the first evening after your extensions are placed. You may consider using a body pillow to help you stay in place during the evening. 

Use the Amazing Lash Studio

Contoured Eye Mask

to protect your extensions while sleeping at night. It will help prevent you from rubbing your eyes. As a bonus, you'll be blocking out light and getting a much better night's sleep.

Feel free to reach out to your Amazing Lash Studio stylist with any questions or concerns you may have!
Don't do this.
Don't touch your new lashes. They're beautiful and breathtaking to look at, of course, but touching them may disturb the eyelash adhesive that may still be setting. Again, don't skip sleeping in that Contoured Eye Mask. 

Don't wear eye makeup of any kind, including mascara, eyeliner, and eyeshadow.

Don't use oil-based cleansers. Keeping your face clean is important, but avoid cleansers with an oil base because this may break down the eyelash adhesive. 

Don't use eye creams of any kind. These are usually thick and oil-based, and are therefore best avoided while your lashes are still setting. 
Maintaining Your Lash Extensions Beyond the First 24 Hours
The aftercare routine of your full set of eyelash extensions is simple yet powerful. 
For best results, be sure to wash your lashes twice a day, in the morning and evening. You may want to wash them after a heavy workout or splashing in pools, hot tubs, or the ocean if you feel it is needed. Make sure to avoid oil-based cleansers, and use Eyelash Foaming Cleanser in order to remove any excess oil on the lashes. 
Use the Retractable Lash Styling Wand to brush your lashes every morning. After you brush and make sure the lashes are dry, apply Protective Lash Coating to enhance the longevity of your lash extensions. 
What else can you do to maintain your new luscious lashes? Many guests have found that switching to a silk or satin pillowcase helps maintain their extensions -- not to mention it's good for the skin and hair! 
These few minutes of maintenance can help save you so much time and money in the long run! Instead of doing a full sweep of makeup every single morning, you'll simply need to clean your lashes as often as you clean your face. 
Avoid picking and prodding and poking at your eye area too much -- you probably won't need to anyway, given how the extensions can make your eyes pop in a natural manner! 
There's an enormous benefit to having lashes that free you from the rigors of a morning makeup routine, but you can enhance your experience with these simple tips and some good common sense. 
If you haven't already, seize the opportunity to take your look up a few notches in a safe manner. Amazing Lash Studio locations are ready to help you enhance your natural beauty! With more than 200 locations nationwide, you're bound to find a studio near you to achieve an elegant, natural style you've always wanted. 
Category: EyeLash Extensions Guide
Tags: foaming cleanser, hours after application, eye makeup, full set, eye creams, 24 hours, 48 hours, extension safe, lash line, lash cleanser, lash glue, clean your lash extensions, eyelash extension aftercare, lash curler, oil free, eyelash curler, wear mascara, makeup remover