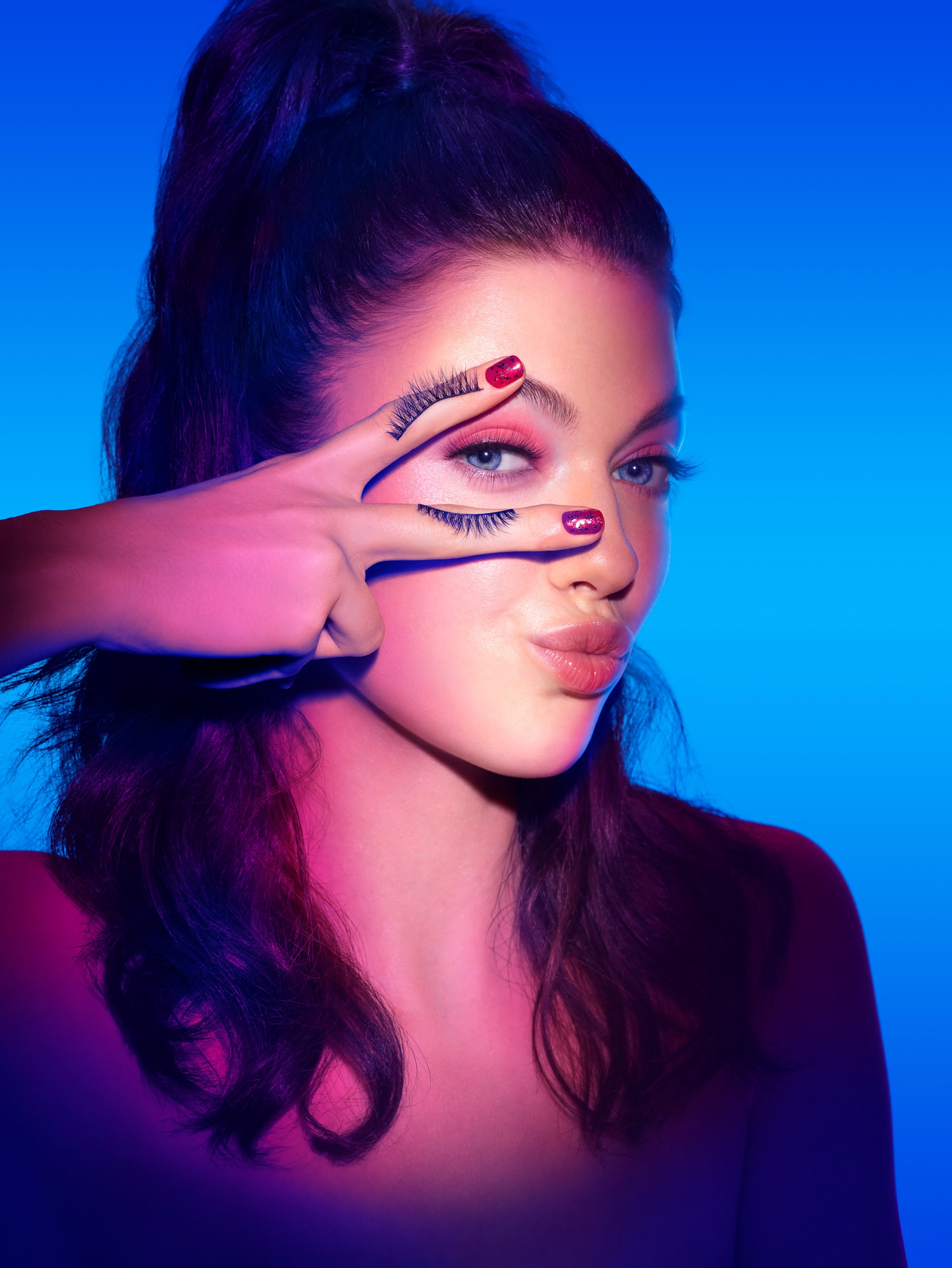 Here's What to Expect When You Get Lash Extensions
If you spent years investing in mascaras that lengthen, define, plump, and volumize, you may find yourself ready to toss the stick and find a semi-permanent method for obtaining the long, luscious eyelashes you dream about. Opening yourself to the experience of getting eyelash extensions is a smooth and simple way to get immediate results -- you walk in with your own bare essentials and walk out with sweeping, dramatic, face-defining results.
Remember the Julia Roberts reveal in Pretty Woman? Yeah, that! 
At First Glance 
Environment and staging sets the tone for your experience. Under the pink awning of an Amazing Lash Studio® location, you find an indoor aesthetic with an upscale charm, including glass doors, crystal chandeliers, and private rooms. It's a spa-like setting where customers are greeted by beauty professionals whose look and speech are positive and polished. They have a professional uniformity as they deliver an affordable luxury service whether you're in Irvine, California, or Irving, Texas, smiles and friendly conversation are no charge.
The clarity of communication and comprehensive instructions alleviate guesswork, which makes arrival and check-in a cakewalk. Through conversations during the booking process, or by checking the website, you already know the answers to such questions as:
How long does it take to get eyelash extensions?

You'll spend about two hours, start to finish, on your initial visit. However, you can pay extra for a Master Stylist and the lash application time should be shorter. 

How much do eyelash extensions cost?

You'll pay an introductory rate in the neighborhood of $100, which varies according to which services you choose. There are options for a lash bath and products you can buy for post-application maintenance. If you continue the service, you'll need to budget in monthly costs but you can benefit from programs such as an Amazing Lash Studio membership. You may not have the financial resources of the Kardashians, but your Instagram photos can still compete with Kim, Khloe, and Kourtney.
If the eyelash extension experience is new territory, your best bet is the Introductory Full Set, which includes Featherweight Classic Lashes® products. Because they're light, you have less chance of discomfort. 
Beauty Consultation
Before working with a Lash Stylist to choose your favorite look, you'll want to know what the experience is like when you get lash extensions. A thorough lash consultation will give you the nuts and bolts of the experience, including how long you'll have your eyes closed, and proper eyecare for the first 24 hours after your session. Each guest is advised to remove contact lenses and use makeup remover if they are wearing mascara.
It's OK if you don't know exactly what you want. That's what the Lash Stylists are for. 
Your private consultation answers any questions you have, such as "What is the best eyelash extension for my face?" Lash Stylists examine your eye area, including your lash line, and offer knowledgeable advice regarding the length and thickness of lashes that suit your taste and compliment your features overall.
The consultation with your Lash Stylist also takes into consideration your lifestyle, special events in your future, and other factors affecting your decision to maximize your natural lashes with a Lash Lift or gain the added drama of extensions. You discuss the length of eyelash extensions you feel comfortable with and choose from four styles:
Natural:

The most subtle look, natural extensions follow your eye shape, adding volume and flare to the outer corner.

Cute:

The longest lashes are placed at the center to make your eyes look larger.

Sexy:

Longer lashes are placed on the outside, making them slightly cat-eyed.

Gorgeous:

Long lashes are in the center and length is shorter at both ends.
The volumizing, curl pattern, and tints that are available allow for even more looks, so practically any style or look can be attained.
Luxury Services
When you and your Lash Stylist determine the eyelash extensions you need, you're invited to lie down comfortably with a bolster under your legs and offered a blanket for warmth and comfort. Your Lash Stylist begins by placing soothing gels on your lower lashes to keep them out of the way. You'll rest for the next 90-120 minutes with your eyes closed while your Lash Stylist goes to work, lash by lash, using a proprietary application process.
You'll be handed a mirror when your new lashes are ready and it may be a shock to your system. If you've ever only experienced beauty basics, you'll be amazed what adding some feathery lashes do to accentuate your looks. 
Aftercare
For best results, wash your lashes in the morning and evening, or after a workout, with Eyelash Foaming Cleanser; this is done to remove excess oil on the lashes. If you haven't figured it out by now, oil is a bad thing. Brush your lashes daily with the Retractable Lash Styling Wand. Use the Protective Lash Coating every other day on lashes when they are completely dry. Avoid oil-based or waterproof cosmetics and creams on or around the eyes to help with retention and keep the new lashes looking their best for the longest period of time. Avoid workouts for 48 hours after getting lash extensions.
What to Expect When You Get Lash Extensions
With more than 200 studio locations nationwide, finding an available appointment with an Amazing Lash Studio stylist in your area is easy. An online search using your zip code brings up every accessible studio and its distance from you. Click on your first choice and simply choose your appointment to match your schedule or call the phone number listed.  It's not hard.
Responses are swift, even if the studio is closed. You get a warm welcome with a personal text conversation that covers everything from scheduling details to a customized plan for your experience. Your Lash Consultantoffers advice for first-timers and explains something that everyone wants to know: What is a master stylist? A Master Stylist is an upgrade option to one of the most advanced, experienced, and highly requested technicians who apply lashes at an Amazing Lash Studio location. Before your appointment, the friendly staff will clarify your needs for service, whether you're attending an event, hosting a wedding, or just want to wow your co-workers.
You can book online, by phone, or by text conversation. You'll also receive a link to a brief intake form that you can complete before your appointment or when you arrive. You'll definitely want to make sure you're on time and give yourself a buffer to fill out any paperwork. Your confirmation text clearly defines policies, including:
Cancellation policy

Late policy

Instructions/preparations

Additional services

Address and directions

Parking details
Seriously, It Couldn't Be Easier
The same way a dazzling coat of color on your nails can turn heads, when you emerge with a fresh set of full, face-flattering eyelashes -- either natural, cute, sexy, or gorgeous -- it adds to your confidence and completes your look. Along with your regular nail appointment, your commitment to beauty maintenance can include participating in the Amazing Lash Studio membership program. It enables you to save money while maintaining the health of your lashes.
Less invasive than dermatology, when you experience eyelash extensions at an Amazing Lash Studio location, you can get the transformation of a tanning salon with the relaxation of a health spa. Even better, after years of wearing mascara in every color from clear to cobalt, after years of fighting smears, smudges, and application snafus, after years of fears about getting caught in the rain or unexpected tears in a crowd, you get freedom. You get customized, semi-permanent beauty results that won't let you down, but will make you stand out in a crowd instead of fading into one.
Category: EyeLash Extensions Guide
Tags: lash line, lash stylist, natural eyelashes, lash artist, eye area, natural lashes, 48 hours, oil based, lash extensions, wearing mascara, 24 hours, semi permanent, eyelash extensions, lash technician, makeup remover, eyes closed, mink lash, allergic reactions, wash your face