Holiday Lash Extensions
This holiday season, give the gift of effortless beauty with eyelash extensions from Amazing Lash Studio Sandy! Our lashes are thicker, darker, and longer than your natural eyelashes could ever be. Why layer on the makeup when you could have a low-maintenance look that will make you the beauty of every holiday party? Get lashes so glam and flirty that even Mrs. Claus gets jealous!
Glam up your lashes with our eye-enhancing, season-brightening eyelash extensions. Your first full set of eyelashes is just $79.99! Besides, we're making holiday shopping easier this year for you. Buy $100 worth of Amazing Lash Studio gift cards for your friends and family, and we'll give you the free gift of a $20 gift card. Naughty or nice, Amazing Lash Studio Sandy has everyone on your list covered.
At Amazing Lash Studio Sandy, we're here to make effortless beauty a reality for every woman. With our semi-permanent eyelash extensions, you'll be ready for Christmas morning pictures without batting an eye. So what are you waiting for? Schedule your appointment at Amazing Lash Studio Sandy today, and we'll give you a holiday-ready look and an opportunity to wrap up your Christmas shopping early!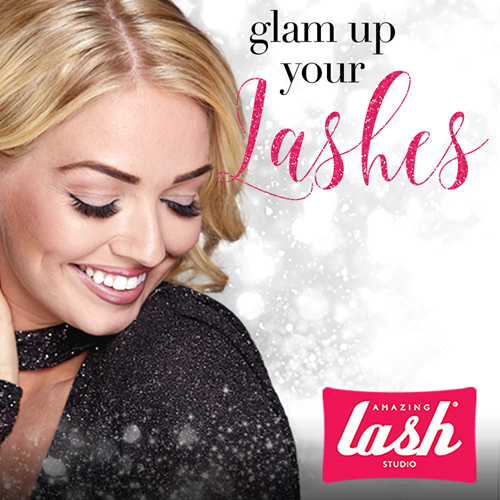 Beautiful Eyelash Extensions in Sandy
Amazing Lash Studio Sandy brings low-maintenance, unique eyelash extensions to the Salt Lake City area. Amazing Lash Studio is here to make your life and your beauty routine simpler with our natural lash extensions. Our Sandy eyelash extension studio is located in the Little Cottonwood Shopping Center by the Fresh Market at 1846 East 9400 South near Massage Envy, Smoky Mountain Pizza, and Fresh Foods Market. We're open evenings and weekends so you can fit beautiful lashes into your busy schedule.
Get ready for show-stopping eyelashes with Amazing Lash Studio Sandy! Whether you need a full-set of lashes or an eyelash refill, our lash stylists will provide you with the perfect set to meet your beauty needs. Our mission is to empower women to be the sexy, playful, flirty and even daring woman they've always been or wanted to be! Whether you come into our studio weekly or just visit for special occasions, we want you to leave looking and feeling your best.
Follow Us on Social
Ready to upgrade your look?
Our $79.99 introductory offer for a full set of eyelash extensions will allow you to achieve the longer, fuller lash goals you've been waiting for. Our lash stylists will accompany your first visit with an eyelash style consultation to customize your lash style that will accomplish your desired look. With four unique eyelash extension styles, Amazing Lash eyelash extension studio has what it takes to achieve any look you want. Our lashes vary in lengths and thickness to enhance your existing natural look and transform your wink into something truly amazing! And the best part about our lashes is they are so lightweight and comfortable you can claim them as your own!
Once you discover the effortless beauty eyelash extensions deliver, you'll be wondering how you ever lived without our lashes. Want to save more on your lash maintenance? Amazing Lash Studio Sand makes it easy for you to join our membership program. Our members receive priority booking, studio rewards for every visit, savings and additional discounts off regular prices on refills and so much more. Call our Sand studio for more information on an Amazing Lash Studio membership today!