No Mascara? No problem!
At Amazing Lash Studio Euless, Texas, we offer eyelash extensions that will have you looking flawless without the hassle of putting on makeup every day. We offer four different style and lengths of eyelashes that can be fitted to any face and eye shape! Great lashes don't happen by accident, they happen by appointment.
There's no greater freedom for a busy woman than waking up, getting dressed, and walking out the door to begin her day. That is the reality of the Amazing Lash lifestyle. After our lash stylists have applied lightweight and comfortable semi-permanent lash extensions, there won't be any need for additional makeup; you'll have a luxurious look from the moment you wake until the moment you go to sleep.
These are not your typical set of false eyelashes. Our eyelash extensions are applied strand by strand to your own set of lashes resulting in a beautiful, natural look. With proper care and maintenance, your personalized set of lashes can last up to 4-6 weeks.
Based on length, style and volume, our eyelash extensions can easily save you 30 minutes in the morning that you can put toward more important parts of your day. Our clients often find they don't need additional makeup once they have the Amazing Lash eyelash extensions.
Go bold with our specialty lash extension options, or choose from one of our four incredible styles:
First full set of lashes
ONLY $79.99 *
Gorgeous - Longer, thicker lashes spread across the entire lash line to give you the ultimate bombshell look.
Natural - Adding length and following the contours of your existing lash line will enhance the natural beauty of your eyes. Your lashes, only better!
Sexy - A flare on the outer corners will make every wink count, every flirtation fabulous.
Cute - Additional length on the center of the lashes will make your eyes appear wider. Big, bright, beautiful eyes are all yours!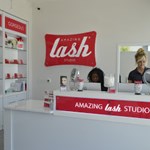 Our professional lash stylists will work with you as you relax in your own private suite in our Euless, Texas location, meticulously creating lash extensions that make a fuller lash line and the look you've been dreaming of. We are located in the Glade Parks shopping center west of Dallas Fort Worth International Airport.
Call and book your appointment today! (972) 483-2690
 Have an Amazing Day!!!