Eyelash Extensions in Merrick, Long Island
Beautiful, affordable eyelash extensions in Merrick on Long Island. Natural-looking, lightweight and comfortable eyelash extensions on Long Island.
Amazing Lash Studio is now open in Merrick, Long Island. Amazing Lash Studio of Merrick is now offering an introductory rate of only $79.99 for a full set of eyelash extensions. Amazing Lash Studio is bringing the most affordable eyelash extensions to Nassau County in Long Island. Our eyelash extension salon in Merrick offers eyelash extension deals with convenient appointment times available on both nights and weekends. 
A Twinkle in Your Eye
Amazing Lash Studio Merrick is the industry leader in semi-permanent eyelash extensions — who else would you trust the health of your lashes and your most eye-catching moments too? 
You never get a second chance to make a first impression. That saying rings true on a couple of levels — first, because we have elevated the lash-beautifying process with our lavish studios that feature private suites and high-quality lash application in the hands of professional lash stylists who we require be either licensed estheticians or cosmetologists, and two, because it's our mission to ensure you're ready to face the day the moment you open your eyes each morning.
Amazing Lash Studio of Merrick is located on Long Island and provides semi-permanent eyelash extensions in a soothing, contemporary salon environment. Our extensions will enhance and refine the beauty of your eyes without the time and hassle of applying mascara! Our lash stylists are licensed estheticians and can help you achieve the look you want — you'll look amazing in no time with our stylish eyelash extensions.
If you are looking for amazing eyelash extension or a lash bar in Merrick will not disappoint. Our studio offers a clean and relaxing atmosphere to enjoy your lash extension treatment.
What are eyelash extensions?
Eyelash extensions are synthetic strands that are applied to look like the natural eyelash. When they are applied by one of our experienced lash specialists at our eyelash studio in Merrick, NY. The extensions give your natural lashes a thicker, more lush appearance. 
How long do eyelash extensions take?
The application process for lash extensions typically takes 90-120 minutes for a full set of lashes and 45-60 minutes for an eyelash refill session at our lash studio in Merrick, Long Island. You will lay on a massage table comfortably with your eyes shut. We provide a serene environment while the stylist applies your lashes.
What is the best eyelash extension style for me?
Each look is individual to the guest, lashes can be tailored to your specific eye shape. Four different styles are available for you to choose from to help you achieve the lash look that suits you best!
Do I need an appointment?
If you are considering getting eyelash extensions at our Long Island eyelash extension salon, you will need to make an appointment. Your consultant will speak with you before your treatment to help choose the lashes that best fit your style. In addition to making your initial appointment, we suggest before leaving after your treatment that you make your next appointment for your refill.
To prepare for your eyelash appointment, it is a good idea to thoroughly clean your natural eyelashes with a mild cleanser. Do not use an oil-based makeup remover to clean your lashes prior to your appointment. You must remove any mascara before your appointment and lashes should not be curled. Our Amazing Lash Studio of Nassau County is conveniently located near Massapequa, Hempstead, Wantagh, Freeport, Bellmore and North Bellmore, NY.
Take advantage of our eyelash extension special, a great deal of just $79.99 for a full set of eyelash extensions at our Amazing Lash Studio in Merrick on Long Island.
Styles So Amazing
They Are Patented
Amazing Lash Studio has 4 proprietary eyelash extensions styles that are used to customize your look. Your stylists will conduct a style consultation on your first visit to understand the look you are seeking and how to customize our styles to achieve the lashes you are seeking. Our styles are so unique they have been awarded a US Patent.
Our specially developed eyelash extensions are extremely lightweight, making them so comfortable you forget you have them. Their curve and finish are so natural you can claim them as your own. The eyelash extensions are varying lengths and thicknesses to naturally enhance your existing lashes, transforming them into something truly amazing.
Gorgeous Lashes
This style features longer and thicker eyelash extensions along the entire lash line. With longer, fuller lashes all over, you will always be red-carpet ready.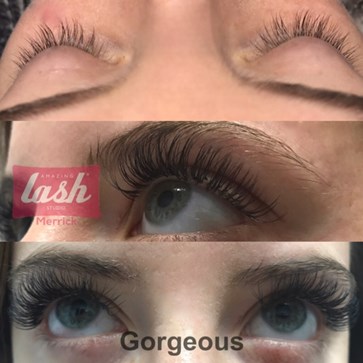 Natural Lashes
You... only better. Longer eyelash extensions tapered to follow your existing lash line and enhance the natural shape of your eyes.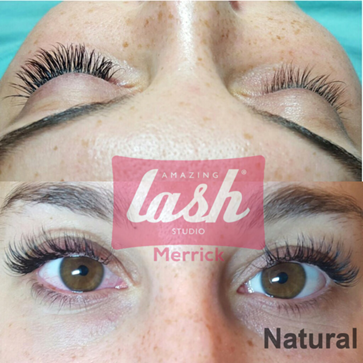 Sexy Lashes
This style features eyelash extensions that are longer on the outside edge of the eyes. Longer lashes on the outside corner of your eye will make every wink count.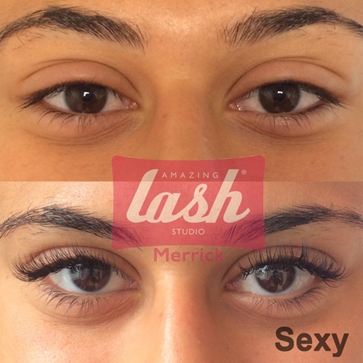 Cute Lashes
Big bright eyes can be yours! This style uses longer eyelash extensions at the center of your lash line to make your eyes appear longer.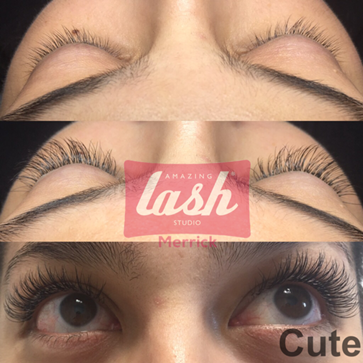 To find out more about our studio, be sure to check out our social media pages: