Connect with us on Social Media: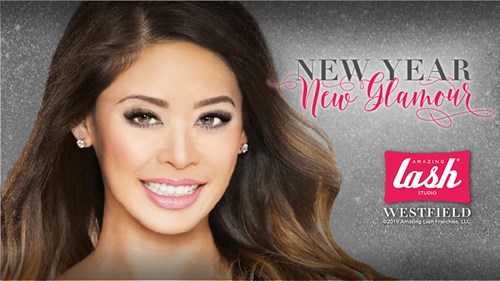 Amazing Lash Studio in Westfield, NJ
Amazing Lash Studio is now open on Broad Street in downtown Westfield New Jersey.  We offer the best eyelash extensions in Union County, NJ. Eyelash Extensions are light-weight and give the look of fuller and enhanced eyelashes. Our Westfield New Jersey eyelash extension studio offers a special eyelash extension deal, $89.99 introductory rate for new clients for a full set of lashes.

Discover how amazing your eyes can look without even trying! Eyelash extensions give you a fresh, bright-eyed appearance without extra time or effort. Find out what you could do with extra time in the morning or your girls night out.
And that feeling is what guests of Amazing Lash Studio Westfield love most about the service we provide: you know you're sporting high-quality eyelash extensions that have created a natural-looking lash line that is longer, fuller and darker than your lashes have ever been, but all anyone around you knows is that you look more awake and you have a bounce in your step that comes from the 10 extra minutes of sleep you got now that you can skip nearly most —  if not all — of your makeup routine. 
What are Eyelash Extensions?
Eyelash Extensions are synthetic strands that are made to replicate a natural eyelash. When applied, eyelash extensions lengthen and thicken your own natural eyelashes. A full set of lashes usually takes about 1 1/2 to 2 hours to complete – however, you will be more than relaxed during your treatment. Your stylist will first help you chose a style that best fits your wants and they will use a proprietary of lengths and widths.

During an Amazing Lash eyelash extension full set treatment, a stylist will use professional grade adhesive to attach the lashes 1mm from your eyelid. Single strands are applied to each individual eyelash one by one. With one of our professional stylist applying them, your lashes will look and feel natural. You should avoid getting your lashes wet for the first 24-48 hours after application.
Before your service, you should clean your lashes with a mild cleanser. Do not use an oil-based makeup remover to clean your lashes. All mascara should be removed and lashes should not be curled.
Don't just take our word for it. Lifestyle blogger Adrienne from Jersey Girl Talk visited our studio! See what she has to say here, http://www.jerseygirltalk.com/2017/04/30/my-experience-getting-eyelash-extensions/. 
Amazing Lash Studio offers four unique lash styles
for you to choose from:
Gorgeous - Longer, thicker lashes that spread evenly across your entire lash line to give you the ultimate red-carpet ready look.
Natural - Your natural lashes… only better! Add length and volume to your existing lash line, following the contours of the natural shape of your eyes.
Sexy - Make every wink count with an extra flirtatious flare on the outer corners of your eyes.
Cute - Bigger, brighter looking eyes are all yours when we add length to the center of your lashes, making your eyes appear wider.
Along with your style choice, you also have the option to choose your lash type! Looking to add volume? Our volume lashes are perfect for those who are in need of a more pronounced, dramatic look. 
Amazing Lash Studio eyelash style guide:
Caring for your eyelash extensions:
To help your lashes last longer, limit the use of running water directly on your lashes
You will want to use a water-based, NOT oil-based makeup remover
Do not get lashes wet for the first 24-48 hours. Avoid hot steam or sauna and rubbing your eyes. 
Do not use a mechanical eyelash curler and do not pull on your lashes
You need to make an appointment for both your first application of eyelash extensions as well as a refill appointment at our Amazing Lash Westfield location. The initial process takes about 60 to 90 minutes. A refill appointment takes about 45 to 60 minutes. To book an appointment call our Amazing Lash Studio Westfield location. 
Let us know how we're doing: