Follow Us On These Great Social Channels:
Facebook Instagram Google Yelp
Eyelash Extensions Should Look and Feel Natural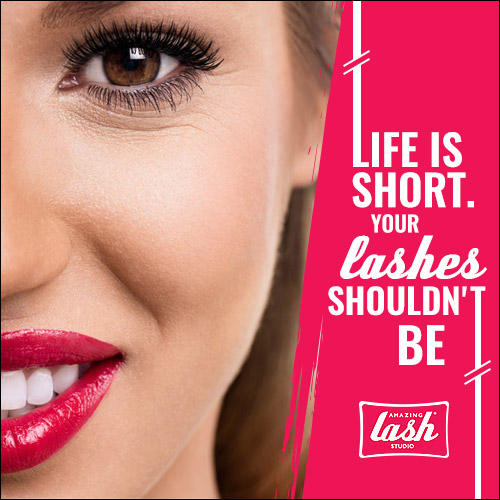 Eyelash extensions are synthetic strands of false eyelashes that are made to replicate a natural eyelash. They are applied one by one and will lengthen and thicken your own eyelashes with a more natural look and feel than strip lashes. 
Our eyelash extensions are extremely lightweight and comfortable. They are applied to each of your natural lashes using professional grade glue. Our eyelash extensions will enhance and give you that celebrity look without having to even apply mascara.
Your Amazing Lash false eyelash extensions will look and feel natural! They will last about two to four weeks depending on your activity level and how well you care for them. When you notice them thinning out, you will need to make an appointment at our Marlboro lash studio for a refill.
Keeping an Eye on Affordability
$89.99 Introductory Offer 
Is there a woman alive who doesn't want access to all the beauty treatments and pampering products celebrities flaunt? From wrinkle reducers to cellulite removers, enviable embellishments often come at a steep price. But now everyone can afford luxurious eyelash extensions, thanks to a maintenance membership from Amazing Lash Studio Marlboro.
Your monthly refill appointments take place in a relaxing private suite, where your personal lash stylist will customize your look to your specifications from one of our four patented lash styles: Natural, Cute, Sexy or Gorgeous. Finally, eyelash extensions that are easy on the eyes and your pocketbook.
Amazing Lash Studio offers four unique lash styles
for you to choose from:
Gorgeous - Longer, thicker lashes that spread evenly across your entire lash line to give you the ultimate red-carpet ready look.
Natural - Your natural lashes… only better! Add length and volume to your existing lash line, following the contours of the natural shape of your eyes.
Sexy - Make every wink count with an extra flirtatious flare on the outer corners of your eyes.
Cute - Bigger, brighter looking eyes are all yours when we add length to the center of your lashes, making your eyes appear wider.
Along with your style choice, you also have the option to choose your lash type! Looking to add volume? Our volume lashes are perfect for those who are in need of a more pronounced, dramatic look. 
To Book Appointments Online
Download The Amazing Lash Studio App
4 Amazing Lash Extension Styles To Choose From:
Amazing Lash Studio Appointments
You need to make an appointment for both the initial lash extension process and any refill appointments. The initial lash extension application will take about 90-120 minutes. An eyelash extension refill will take about 45-60 minutes. We recommend you book your refill appointment before leaving your initial appointment so you can guarantee the date and time are available.
Our Montclair eyelash studio has very flexible hours including both nights and weekends to accommodate any busy schedule. We are the best eyelash salon in Montclair and the surrounding areas and serve customers from all North Jersey including Glen Ridge, West Orange, Verona, Cedar Grove, Clifton, Roseland, North Caldwell, West Caldwell, Essex Fells, Lyndhurst, Rutherford and Livingston. Parking is available in the attached rear garage located at 34 Valley Road or in the municipal parking lot across the street.
Stay up to date on the latest Amazing Lash Studio eyelash extension deals and specials in Montclair, NJ.
$89.99 Introductory Offer
Laws of the Lashes
Some laws to live by when caring for your lashes include:
You should not let your lashes get wet for about a day or two after application
Avoid hot steam or saunas
Avoid rubbing your eyes often
Do not use a mechanical eyelash curler to try and shape your lashes
Our Amazing Lash Studio offers products, including a brush, makeup remover, facial cleanser, styling gel, mascara and other products that are safe to use and will keep your lashes looking fresh without compromising the extensions. To learn more about the products available, visit our Lash Products Page.
How To Prepare for your Lash Extension Application Visit
Before your appointment, you should remove your mascara and eye makeup. Be sure to do this with a mild cleanser — do not use an oil-based makeup remover as it can break down the adhesive if you're coming in for a lash extension refill.