For the First 24 Hours
For best results, keep your new lashes dry and avoid participating in activities with excessive humidity and that cause you to sweat. Do not use oil-based products of any kind on or near your eyes. You should avoid touching your lashes directly, and we recommend sleeping on your side or back, not face down.
General Aftercare
For best results, be sure to wash your lashes in the morning and evening with our Eyelash Foaming Cleanser, or after a workout. This will remove any excess oil on and around your lashes. Brush your lashes daily with your Retractable Lash Styling Wand, and use protective Lash Coating every other day on your lashes when they are completely dry. Avoiding oil-based or waterproof cosmetics and creams on and around your eyes will help with retention, keeping your new look its best, longer.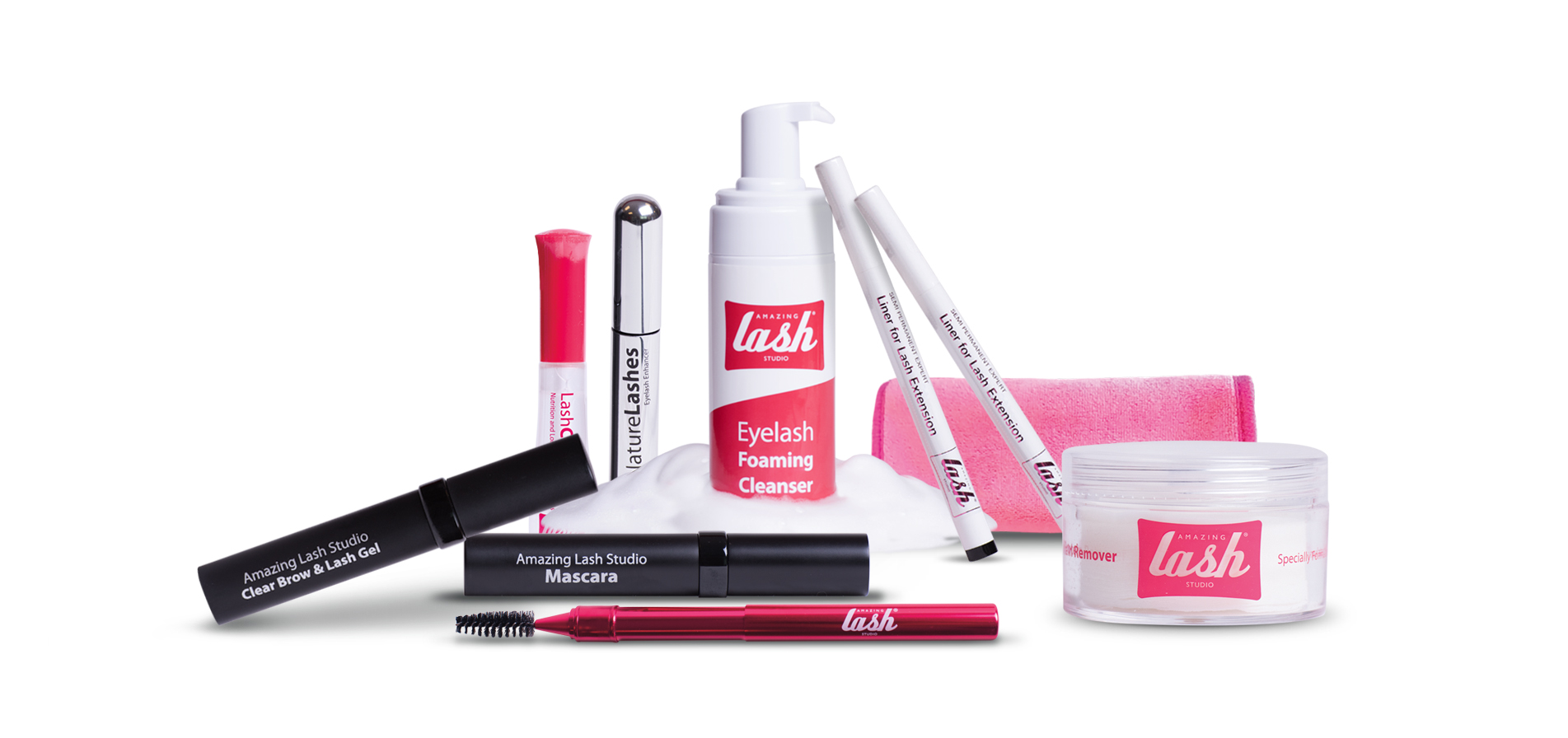 For best results we suggest these tools and products.
You can shop them all at your Amazing Lash Studio® location.
PRODUCTS:
Eyelash Foaming Cleanser: Tough on dirt while gentle on your lashes, this lightweight foaming cleanser is essential for keeping lashes their cleanest. 
Eye Makeup Cleansing and Protein Removal Pads: Our cleansing pads remove excess oil, dirt and protein on eyelashes so that extensions lasts longer. 
NatureLashes: Nourishes, enhances and conditions your own lashes. 
Protective Lash Coating: Apply twice weekly to preserve the natural look and extend the life of your lashes.
Long-Lasting Eye Liner: Lash-friendly liner that glides on smoothly and easily. 
Amazing Lash Mascara: This water-based formula is formulated specifically for lash extensions to deliver extra volume and rich color.
Clear Brow & Lash Gel: Water-resistant gel formulated to provide a sleek and shiny result.
TOOLS:
Retractable Styling Wand: Groom and primp those lashes to perfection.
Heated Lash Curler: Just enough heat to shape and curl your lashes in seconds. 
Makeup Cleanser Cloth: Easily remove makeup and help blot excess moisture from your lashes after washing. 
Speedi Brush: Optimal control in achieving an amazingly smooth, quick and easy makeup application. 
Lash Refills
Nature gives you new lashes every 2 weeks, and at Amazing Lash Studio®, so do we! Stop by for an abbreviated version of your initial appointment—just enough to give extensions to any new lashes you've grown, and replace any you may have lost along the way.