Amazing Lash Studio | Woodbury, MN
Amazing Lash Studio in Woodbury, MN, provides high-quality, low-maintenance eyelash extensions that will have you looking and feeling totally amazing! Simplify your beauty routine with light-weight, hassle-free eyelash extensions in Woodbury today!
Get in touch with us by email at woodbury@amazinglashstudio.com
Follow Us on Social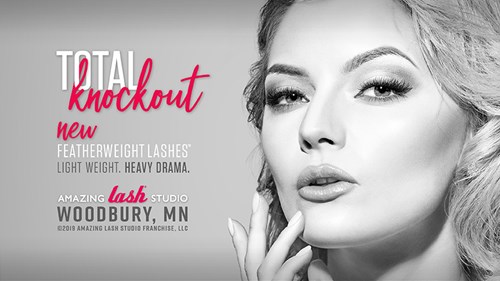 Featherweight lashes available now
Our Studio was recently featured in Woodbury Magazine!
We are proud to announce that we were just recently featured in Woodbury Magazine! It makes us proud to know that we are being noticed for having a positive effect on our community!
Read the article here:
http://woodburymag.com/new-woodbury-business-aims-make-glamorous-eyelashes-available-everyday

Amazing Lash Studio is Bringing Gorgeous, Natural Eyelash Extensions to Woodbury, Minnesota!
Feeling flawless and amazing with little to no effort at all each morning: that is the luxuriously simple lifestyle you can grow accustomed to after an eyelash stylist from Amazing Lash Studio has applied your lightweight and comfortable semi-permanent eyelash extensions.
We are excited to bring the Amazing Lash Studio brand to the East Metro of the Twin Cities and especially pleased to do our part to become a valuable piece of the Woodbury community. We invite you to ditch the time consuming and harsh eye makeup-removing nightly routine as well as the daily morning eyelash curling and messy mascara applying process.
 Your Look, Your Style, Our Lashes
Amazing Lash Studio Woodbury offers four unique lash styles:
Gorgeous - Longer, thicker lashes spread across your entire lash line to give you the ultimate bombshell look.
Natural - Your lashes, only better! Add length that follows the contours of your existing lash line to enhance the natural beauty of your eyes.
Sexy - Make every wink count by adding an extra flirtatious flare on the outer corners of your eyes.
Cute - Big, bright, beautiful eyes are all yours! Add length to the center of your lashes to make your eyes appear larger.
4 Amazing
Lash Extension Styles
To Choose From:
Are eyelash extensions for you?
Your new lashes will be ready to go when you are! When you visit our studio you will speak with a dedicated lash stylist who will work with you to create the perfect set of eyelashes. Are you tired of wasting time perfecting your eyes during your morning routine? Fed up with the annoyance of running mascara? Over the harsh, nightly mascara removal process that is drying out and damaging your skin? Amazing Lash Studio of Woodbury can solve that!
First, you will choose your lash style, lash length and lash volume. Then, your stylist will safely and gently apply, one by one, our lashes to your own existing lashes. Relax on a comfortable massage table in your own private suite and rest comfortably knowing that all of our stylists are licensed cosmetologists or estheticians, and have completed and passed Amazing Lash Studio's Lash Stylist Training Program. 
When the process is complete you will open your eyes to a beautiful set of eyelashes that are now yours and ready for any occasion! Questions about your new lashes? No problem, our stylists, and consultants maintain the most current knowledge in the eyelash industry including information on all of Amazing Lash Studio's exclusive products designed specifically to maintain and enhance eyelash extensions.
Providing Gorgeous, Long eyelash extensions in Woodbury at an affordable price!
Our studio is in Woodbury Plaza, on the corner of Woodbury Drive and Commerce Drive, just south of I-94. We share a building with Orange Theory Fitness and are surrounded by notable stores such as Target, Starbucks, European Wax Center, Nadia's Cupcakes, Culver's, Noodles and Company, Discount Tire, Bruegger's and Sam's Club.
Redefining convenience with the Amazing Lash Studio App!
Just when you thought your eyelash extensions couldn't be any more convenient; you can now book appointments right from your phone! 
Amazing Lash Studio Woodbury 
Woodbury Plaza, Woodbury, MN
530 Woodbury Drive, Suite 100
Woodbury, Minnesota 55125
(651) 564-3200
Introductory offer:
First full set of lashes is $79.99