Amazing Lashes For Amazing Moms
Every mom deserves to feel beautiful, and what better to boost her confidence than by adding a little lift to her wink? This Mother's Day, give your mom the gift of eyelash extensions from Amazing Lash Studio Norterra! Our amazing lash extensions come in four unique styles, ensuring that your momma will get the bold, beautiful lashes that fit her style. The best part? With every $100 gift card purchased this Mother's Day, we're throwing in a $20 voucher! That's right! Both you and your mom can come get the longer, fuller lashes you've always wanted. Give Amazing Lash Studio Norterra a call today and ask about our gift cards!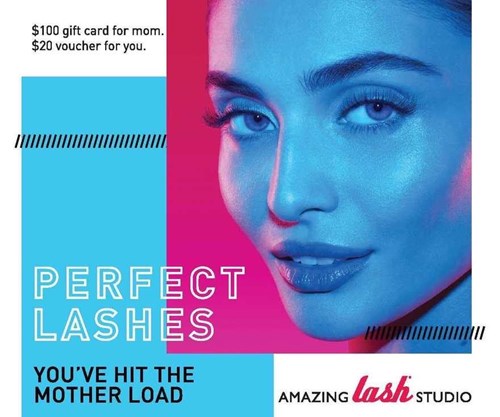 Amazing Lash Extensions in Norterra
Show-stopping eyelashes are only an appointment away with Amazing Lash Studio Norterra! Our mission is to empower women to be the sexy, playful, flirty and even daring woman they've always been or wanted to be. Whether you need a full-set of lashes or an eyelash refill, we always want you to leave looking and feeling your best. Our lash stylists will provide you with the perfect set to meet your beauty needs. Book your appointment with Amazing Lash Studio Norterra today, and get ready from those glamorous lashes you've always dreamed of!
Bold, Beautiful Eyelashes
Enjoy a beauty routine that matches your bold lifestyle! At Amazing Lash Studio Norterra, your lash stylist will conduct a style consultation during your first visit to customize the lash style that will best suit you. Our eyelash extensions come in four unique styles - Gorgeous, Natural, Sexy, and Cute - allowing you to achieve the fabulous lash look you want. The best part about our lashes? They are so lightweight that you'll forget you even have them! With our introductory offer of $79.99 for a full set of eyelash extensions, you'll receive the longer, fuller lashes that you've always wanted.
Lift Your Lashes
Are you ready to lift your natural lashes? Amazing Lash Studio Norterra can raise your everyday lash game by adding a semi-permanent curl to your existing lashes! Unlike lash extensions, our lash lift uses a perm solution to keep your lashes perfectly curled through their natural cycle.
Book Your Lash Appointment Today!
There's no greater freedom for a busy woman than waking up, getting dressed, and walking out the door to start her day. Once you experience the ease and confidence you get from our bold, beautiful eyelash extensions, you'll wonder how you ever lived without lash extensions. Want to receive priority booking, rewards for every visit, and savings up to 50% on specialty lashes? Try the Amazing Lash Studio Norterra membership program! Call our Norterra studio to book an appointment today!
Download The Amazing Lash Studio App
It's now easier to book your appointments with the new Amazing Lash Studio app! Download it today and start booking your next appointment with real-time availability at Amazing Lash Studio Norterra. Know exactly when your appointment is and never worry about requesting an appointment time again! Available for iOS and Android. 
Follow Us on Social