Visit Our Chandler Ocotillo Eyelash Studio:
Amazing Lash Studio Chandler Ocotillo is conveniently located in south Chandler at the corner of S Arizona and Ocotillo Rd in the Paseo Lindo Mall (between the Target and LA Fitness). We're open seven days a week to ensure that your eyelashes never miss a beat! We are open 9 am to 8 pm on weekdays, 9 am to 6 pm on Saturday, and 10 am to 5 pm on Sunday. Getting a lash appointment is only a call away! Give our studio a call at (480) 630-5274.
Follow Us on Social
October Promotions at Amazing Lash Studio Chandler Ocotillo
Throughout October, guests who sign up for our lash maintenance membership get a Free Gift! Call now to inquire.
October New Stylist Offers
Due to popular demand, Amazing Lash Studio Chandler Ocotillo is growing.  We are proud to announce that four new eyelash extension stylists recently graduated from our intensive and proprietary two-week lash training program! Following their graduation, you can get 50% off ALL SERVICES performed by one of our new stylists for the next two weeks. Call to book your appointment with one of our new stylists at Amazing Lash Studio Chandler Ocotillo before their lash appointments fill up!
See Inside Our Lash Studio
Amazing Lash Studio Chandler Ocotillo Experience
About Amazing Lash Studio Lash Consultants
From the moment you enter Amazing Lash Studio Chandler Ocotillo, our Lash Consultants will greet you with the beverage of your choice and excitement for beginning your lash journey! First, they will walk you through our eyelash extension process and will outline the aftercare recommendations that will keep your eyelashes on point. Our lash consultants will then discuss our four different and customizable styles, answer any questions or concerns, and explain how our membership program can provide you with substantial savings for maintaining your desired look. Don't hesitate! Book your appointment at Amazing Lash Studio Chandler Ocotillo today.
Experienced and Trained Lash Stylists
Being open 7 days a week with 11 private eyelash extension rooms and 9 eyelash extension stylists, you are sure to be able to get an appointment and ensure that you look and feel your best at all times. We only hire Licensed Cosmetologists or Estheticians, and we put them through our proprietary training which lasts 2+ weeks (most eyelash extension classes only take 1-2 days). Our lash consultants are required to lash an excess of 18 models before Amazing Lash Studio Chandler Ocotillo will ever put them in front of a paying customer. Our lash consultants train under the direction of experienced eyelash extension trainers who work in our studio.  You're always in good hands at Amazing Lash Studio Chandler Ocotillo!
Meet a Lash Specialist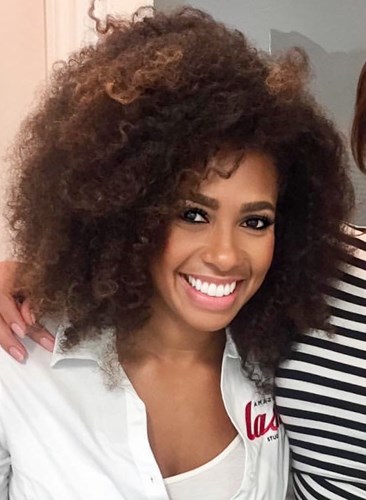 Ryan Gillis began her career in the beauty industry as a hair artist 16 years ago in Dixon, Illinois.  She is a Redken Certified Design & Finishing Artist as well as a Certified Colorist. "I have had the opportunity to work with some of the most creative leaders in the industry!" Ryan moved to Arizona in 2013 to escape the Illinois winters.  "When I arrived in Arizona, I decided to expand my talents beyond hair, and that is when I fell in love with eyelash extensions."  In less than two years, Ryan grew a lash clientele of nearly 200 guests! She is always seeking out new ways to improve her craft, and always looking to achieve the greatest level of customer service and artistic excellence. "I enjoy bringing out the best in all of us." Besides her lash talent, Ryan brings a sense humor, passion, strong work ethic, and a wonderful team spirit. All of this contributes to her goal of creating beauty from the inside out. "Now I can't wait to build a magical lash team that focuses on bringing AMAZING, youthful, fun, pretty, and easy lashes to as many people as possible!"
Learn More About Our Chandler Ocotillo Lashes
At Amazing Lash Studio Chandler Ocotillo, we take our work seriously!  So much so that our team has its very own YouTube channel full of informational eyelash extension videos! Interested in seeing amazing eyelash transformations and before-and-after videos?  We have that!  Do you have questions about the eyelash extension application process?  We have that too! If you've never had eyelash extensions, it's normal to be nervous.  We want to make this process easy and relaxing for you. Check out our YouTube channel video series with our co-owner and studio operations director, Ryan. The series is called the 'Lash-Out', and Ryan shares all of her favorite things about eyelash extensions, beauty secrets, and much more!  Still nervous?  It's easy, it's relaxing, and it's transformational!  But don't take our word for it; just look at all the 5 Star reviews we've accumulated from Yelp, Google, and Facebook. Click on the link below, and read the reviews for yourself. People love our lash extensions, and they love our service--you will too!
Don't just take our word for it! Local beauty expert loves Amazing Lash Studio Chandler Ocotillo. 
 
Amazing Lash Studio Chandler Ocotillo Proudly Participates in Chandler's Rockin Taco Fest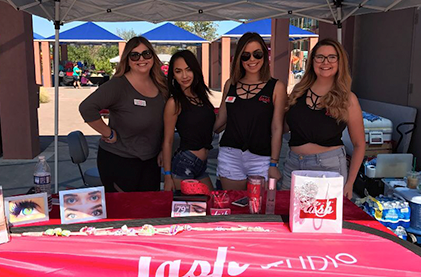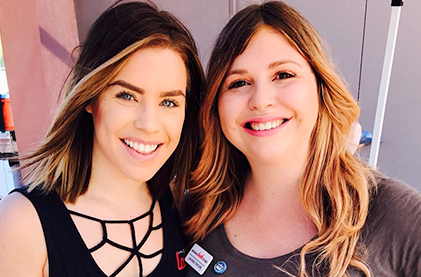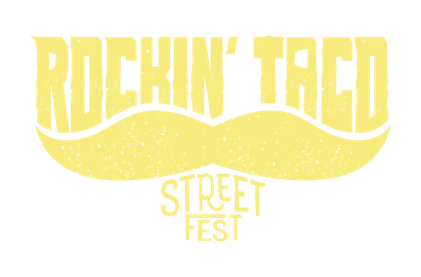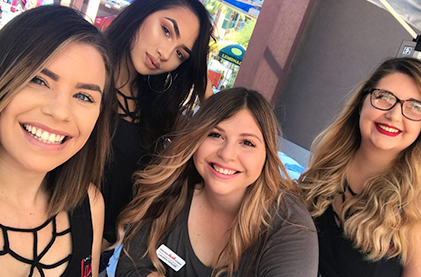 Who doesn't love a great party?! We certainly love it! Four of our Amazing Lash Studio lash consultants rocked the booth at Chandler's biggest taco festival again this year. We were able to give away two full sets of lash extensions and five Amazing Lash Studio gift bags full of beauty products that are exclusively available at our Chandler Ocotillo studio to lucky winners.