LASH b[Log]: Beauty Changes Lives...Could Yours Be Next?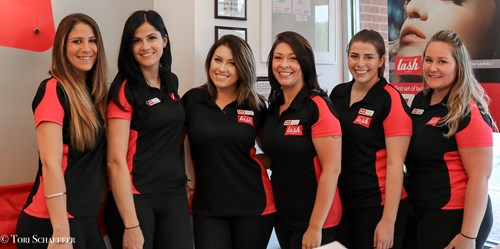 Beauty Changes Lives … Could Yours Be Next?

Looking for a beauty career that provides instant gratification, empowerment and steady income in a booming industry? Then steer your career path toward eyelash extension application with the help of a scholarship for an esthetic program at the accredited cosmetology school or esthetician school of your choice.
Amazing Lash Studio, the nationwide franchise concept of eyelash extensions, has partnered with the Beauty Changes Lives Foundation to provide monetary assistance to students seeking careers in the professional esthetics industry. Whether your education is focused on hair, nails, makeup or skincare services, lash extensions are a gratifying and lucrative add-on service or full-time career choice upon graduation.
Once you receive your cosmetology license or esthetician license, simply complete Amazing Lash Studio's comprehensive multi-day training program to learn our proprietary application process — and we'll welcome you to the beginning of a beautiful career. Our specially designed semi-permanent eyelash extensions are lightweight and comfortable, ensuring that at least one of our four patented styles is sure to fit everyone's lifestyle. Applied individually to the client's own lashes in a private spa-like suite, our extensions replicate the curve and size of natural lashes, but with as much bold drama or subtle boost as you desire.  
Here's the Real Beauty of it All
Amazing Lash Studio employs more estheticians and cosmetologists performing lash extensions services than any other brand — currently approximately 2,800 licensed lash stylists work in our network and this number will nearly double by the end of 2017. Our fast growth means we are waiting for the students of today to fill these soon-to-be open positions.
Our mission is to provide a career path and a future for prospective stylists who are embarking on their education in the beauty industry. With 138 open studios since 2013 and 274 sold in 26 states, our growth trajectory will guarantee esthetician jobs for those looking into the specialty of lash extension application — that's almost unheard of, as students graduating from other industries often struggle to find employment. Plus, we offer tremendous earning potential as well: Our stylists can make up to $60,000 annually, while master stylists have the potential to earn up to $80,000 per year.
Apply for Your Amazing Lash Studio Scholarship Today
The application window for the inaugural Beauty Changes Lives scholarship competition is June 12, 2017 through August 14, 2017. The program will award five scholarships in the amount of $2,250 to students enrolled in any esthetic program at an accredited school. We encourage all eligible students to apply for this amazing opportunity via essay, inspiration board or online video. Complete details are available at www.beautychangeslive.org/scholarships-at-a-glance.
Already a Licensed Esthetician or Cosmetologist?
Are you looking to make a move out of the typical beauty jobs of hair, makeup, nails or skincare? Do you want to spend your workdays in a tranquil and private lash suite instead of a hectic and noisy salon? Do you pride yourself on providing exquisite customer service? Are you yearning to make a difference in women's lives through creativity and artistry? Then join our team! Amazing Lash Studio Careers is the perfect next step for your esthetician career because we're the largest and fastest-growing eyelash franchise in the country.
Eyelash enhancements have been popular since the days of Queen Cleopatra, false eyelashes debuted in the early 1900s, and lash extensions have been around for years. Though the centuries pass by, women's demand for high-quality beauty products that help them look and feel their best will never change. With today's technology, the time-saving and anti-aging effects of professionally applied eyelash extensions further tip the scale. Bringing next-level, natural-looking lashes to women will brighten your day as much as it does theirs — your clients will leave their appointments feeling beautiful, confident and downright amazing.
---