Are Eyelash Extensions Safe?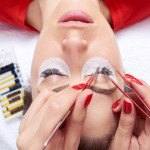 Mascara has been a part of my beauty routine for many years now, and a spare bottle is always kept in my purse for emergencies. Long, dark eyelashes are beautiful – and help you appear more awake – so naturally, mascara can never be skipped. However, mascara is not perfect. It can be messy, difficult to reach every lash evenly, and is almost impossible to apply if you are in a hurry. Many women are tired of trying to achieve the perfect lashes every day, so they have started getting eyelash extensions instead.
Eyelash extensions are attached to your eyelashes (like hair extensions) and make your lashes appear fuller, longer and darker than ever before. Extensions typically last 2 weeks before you need a refill, so you save time in the mornings by skipping the mascara. But just because a beauty trend is popular, does not mean it is right for everyone; how do we know eyelash extensions are safe for continued use? We did some research into this popular trend so you don't have to! Read on to see what we found out about this interesting beauty service.
The American Academy of Ophthalmology cautions women about the dangers of eyelash extensions and the adhesives used to apply them to eyelids. According to their website, "dangers of using these extensions include: infection of the cornea; infection of the eyelid; swelling of the eyelid; and permanent or temporary loss of eyelashes."
They recommend a few safety tips before you book an appointment. First, ensure that the aesthetician who will be working on you is certified and working at a reputable establishment. Next, make sure your aesthetician practices adequate hand washing and proper hygiene. Finally, check the eyelash adhesive ingredients before use. And if you develop an infection or allergic reaction, see an eye doctor immediately.
There are several places in Addison where you can get eyelash extensions. Amazing Lash Studio is one such place. According to their website, aestheticians at Amazing Lash Studio use only pharmaceutical grade adhesive to apply lashes, which are adhered to each lash about 1mm away from your skin, lowering your risk for allergic reaction. You have several lash options here: natural, which are longer lashes across lash line that enhance your natural eye shape; cute, which are longer lashes at the center of lash line that make your eyes appear larger; sexy, which are longer lashes on the outer corner of eye; and gorgeous, which are thicker and fuller lashes all over. A full set of eyelash extensions is $250 (or $59.99 for members) and $49.99 for a touch up (or $35.99 for members).
Luxx Lash Salon and Boutique is another spot in Addison to get luxurious eyelash extensions. This shop uses Xtreme Lashes, and attaches them one by one to your natural lashes to give the look of a natural extension. These lashes are hypoallergenic, synthetic polyester and safe for contact lens wearers, according to their website. They also use high quality, formaldehyde-free adhesives. There are three basic options: Simply Chic, which is up to 70 lashes per eye for $200 ($99 for members), Oh So Glam, which is up to 90 lashes per eye for $250 ($149 for members), and The Luxx Look which is up to 110 lashes per eye for $300 ($199 for members).
If you decide to try eyelash extensions this season, just be safe about it, take your time to research the salon, and carefully monitor your eyes for allergic reactions. If done properly, eyelash extensions are an easy way to transform your look and give you the lashes you've always wanted. Make an appointment today – and sleep in an extra 10 minutes since you'll save so much time from skipping the mascara!
To Read Full Article Click Here
---