She eyed this beauty trend as a business opportunity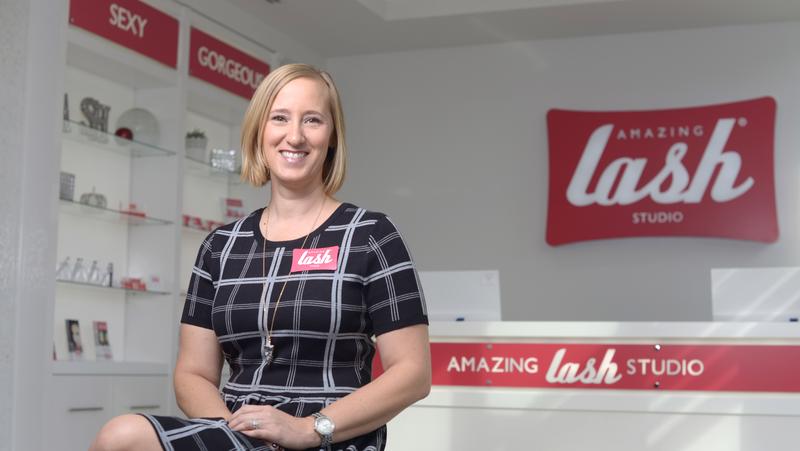 Elizabeth Holte is regional developer for franchisor Amazing Lash Studio, and owns a location in Chanhassen, Minn., outside of Minneapolis. She wants to develop 20 more locations.
For Elizabeth Holte's first venture as an entrepreneur, she chose a service that many of her clients find "addicting."
In 2015, Holte left her job at Target Corp. to become a regional developer of Amazing Lash Studio, a national beauty franchise that offers semi-permanent eyelash extensions. She has the exclusive rights to develop the salon's locations in Minnesota, South Dakota and North Dakota.
Holte's pitch to clients is that fuller, longer eyelashes can make them look younger and save time on makeup. During an appointment, a licensed technician glues synthetic eyelashes to each individual eyelash.
A monthly membership costs $79.99 for an initial appointment and $59.99 for monthly maintenance, a recurring-revenue model that attracted Holte to the concept. That's a fraction of the $150 to $250 price range that Holte said her competition charges.
Holte, with her sister and business partner, Amy Kulenkamp, used their personal savings to develop Amazing Lash Studios in the region. Start-up costs range from $276,850 to $597,700 for Amazing Lash Studios nationally; the pair also paid $175,500 to become the regional developer for the chain. Holte is actively looking for people interested in becoming franchise owners, as her goal is to develop 20 more locations in the next two to four years.
Holte felt that the best training as a leader would be walking in the shoes of her franchisees. Along with owning the Chanhassen, Minn., franchise, she was the on-the-floor studio manager when it first opened.
"I wanted to really learn [operations] from open to close every day for the first few months, so that, No. 1, I knew what was involved with running my business and also so I could support my franchisees by being an operator — a true operator."
To Read Full Article Click Here 
---